John Cowan
Director :: Project Shepherd, Relationship Management, Writer/Editor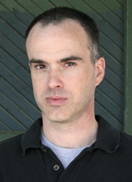 John's entry into the interactive field started with an English degree which led him to a publishing company as an editor of a trade magazine. He saw the economic benefits of websites right away and when the magazine went digital, John was the go-to man. He taught himself code and began building CD-Roms. It wasn't long before his career naturally swerved in the direction of multi-media project management. Here are his thoughts about what he does at Echoviz:
"One of the best parts of my job is to build relationships with clients. The reality of business development boils down to two questions: 'Will this project make my life easier?' or 'Will this project make me money?' That may sound strict (excluding charity, of course), but if a company approaches upcoming projects with those questions in mind, they're already headed in the right direction. In the lean modern economy, any business planning on investing capital in a new project needs to have goals clearly defined before the gears start turning."
Not only does John do our Project Shepherding, he also does much of our writing and editing. And as an added bonus, he's a darned good musician.

john (at) echoviz (dot) com
---
Our Team