Michelle Berryman
, FIDSA
Principal :: Interaction Design, Business Development & Emerging Technologies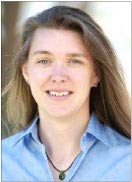 Michelle is co-founder of Echoviz and our woman on the town. Or should we say, our woman around the globe, since she travels all over the world in the name of user experience. Her travels are quite impressive. Even more impressive is Michelle's accomplishments which are too lengthy to list here. Suffice it to say, that Michelle knows what she's doing. She has a Bachelor's in Industrial Design from Georgia Tech and a Masters Degree focused in Interaction Design from there as well. Here's her inspired story of how she was led into the field:
"My senior year in high school, my mom was diagnosed with an aggressive terminal illness. Her health declined rapidly and as it did, I watched her physical abilities diminish. It became difficult for her to do even simple daily tasks. When assistive products started appearing in our home, they allowed her to maintain her independence and quality of life. It was then that I learned about industrial design and it really struck a chord with me. While I no longer design physical products, I'm always focused on user experience - with a product, with a website, a piece of software, and an environment. I always want to design meaningful experiences that resonate with users and elicit desire and delight."
We suggest you check out some of Michelle's
upcoming travels
(and some of her past travels). Not only will it make you jealous, it will give you a nice global perspective of the interactive community.

michelle (at) echoviz (dot) com
Groups & Affiliations

Awards & Accomplishments

Fellow in the Industrial Designers Society of America (IDSA) 2010
"Top 10 Innovators You Should Know" by Deep magazine in the March/April 2005
Nominee for Women in Technology (WIT) Atlanta chapter "Woman of the Year in Technology" award in the Small/Medium Enterprise category. 2006
Design Juries

IDSA/Businessweek magazine Industrial Design Excellence Awards
The Consumer Electronics Show (CES) Innovation Gallery
Appliance Manufacturer magazine's Excellence in Design awards
Residential Systems magazine's Resi-Awards
The Taiwan Design Center's prestigious Taiwan International Design Competition
The Housewares Design Award sponsored by the International Home & Housewares Association
The Marksman Design Award in the Netherlands
The Observeur du Design jury, an international competition hosted by the Agency for the Promotion of Industrial Creation (APCI) in Paris, France
The Microsoft Next-Gen Design Competition
The Creative Coast Alliance Innovation Awards Program
The Seoul Design Competition
The Australian International Design Awards
IDSA/Fast Company International Design Excellence Awards
---
Our Team