Brian Lynn
Principal :: Interactive Environments, Animations & Logic-Based Applications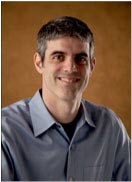 Brian co-founded Echoviz with Michelle in 2002. Their partnership has led to a successful bond that's lasted for years. We like to think of Brian as the office "contrarian." We look to Brian to help us see a different side of thinking. Makes sense that he questions everything, otherwise how else would he be able to do what he does? Here's how he started off on this path:
"I've been drawing for as long as I can remember and actually majored in art starting in high school. Originally, I thought I wanted to be an Architect, but then I fell in love with design that combines user experience together with physical space and human interaction. That's what drives me and the reason why EchoViz was started."
Brian has a degree in Industrial Design from Rochester Institute of Technology and many accomplishments under his belt. Beyond running a business, he also has a blooming bike design hobby and a family that keeps him on his toes.

brian (at) echoviz (dot) com
---
Our Team